Recent News:
(Sarah Kay is)
August 25, 2014
Performing at "Speechless" at Joe's Pub in NYC!
"Speechless" brings improvisors, tech industry gods, and everyday joes and challenges them with giving a presentation on the fly with a powerpoint deck they are seeing with the audience for the first time. It was Sarah's first time doing improv publicly, and despite it being terrifying, she loved getting to share the stage with the amazing talents of Tony Award winner James Monroe Iglehart, Upright Citizens Brigade's Brian Fountain, and writer/comedian Nathan Phillips! Check out the article in the Wall Street Journal! (photo by Andrew Hinderaker)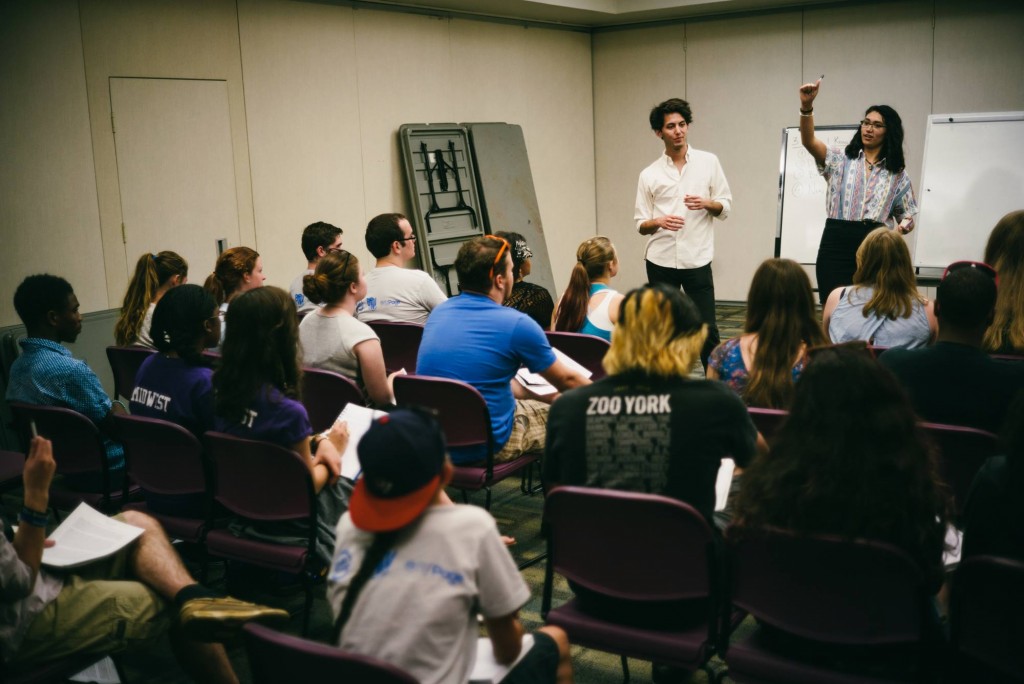 July 16-19, 2014
Performing and leading workshops at Brave New Voices in Philadelphia, PA!
What an incredible event. Sarah was lucky enough to spend time surrounded by the brilliant, brave young poets at BNV, and it was a special treat to get to lead workshops with the whole Project VOICE team! (Top photo by Travis Thompson, Second photo by Daniel Schaefer)
July 10-12, 2014
Leading Professional Development Workshops at the IBO Americas Conference in Washington DC!
This is Sarah's third IBO Americas Conference, and her first time being part of the exhibitor's hall! It is always a wonderful experience to meet enthusiastic educators and spend the day among like-minded folks. Thanks to the organizers.
July 2, 2014
Having a Book Release Show with Robbie Q. Telfer, Fatimah Asghar, and Jamila Woods in Chicago, IL!
Sarah loves these three poets with a fiery heart, and she was absolutely thrilled to get to perform alongside them at her book release show in Chicago. Much thanks to everyone who came out to celebrate, and deepest love to the co-performers. (B&W photo by Kriss Abigail)
June 29, 2014
Performing as the featured poet at the Green Mill in Chicago, IL!
The Green Mill is an institution: it's where Poetry Slam was invented! (By Marc Smith!) It is always an honor to perform here. Much thanks to Marc and J.W. Baz for helping the show be a great success!
June 27, 2014
Participating in a Panel with George Watsky at Videocon in Anaheim, CA!
Seven years ago (Geez, 7?!) Sarah filmed for an episode of HBO's Def Poetry Jam and met a sweet guy named George Watsky who was also shooting that day. Seven years later, he's a total rockstar rapper and poet, who hustles harder than anyone. The two don't get to see each other very often because both tour incessantly, but when George asked if Sarah would fly out to VidCon to be part of a panel he was leading on Poetry & Online Video, along with some super talented poets and friends, Sarah was excited to go. It was great to see him, and she continues to cheer him on!