Recent News:
(Sarah Kay is)
November 15, 2013
Performing and teaching at Abington Friends School in Jenkintown, PA!
Sarah had a wonderful time working and playing with students at the Abington Friends School. What an absolutely beautiful school building, full of delightful students and staff. Thank you to everyone who participated in the workshop, and thank you to the faculty who helped organize and facilitate the visit!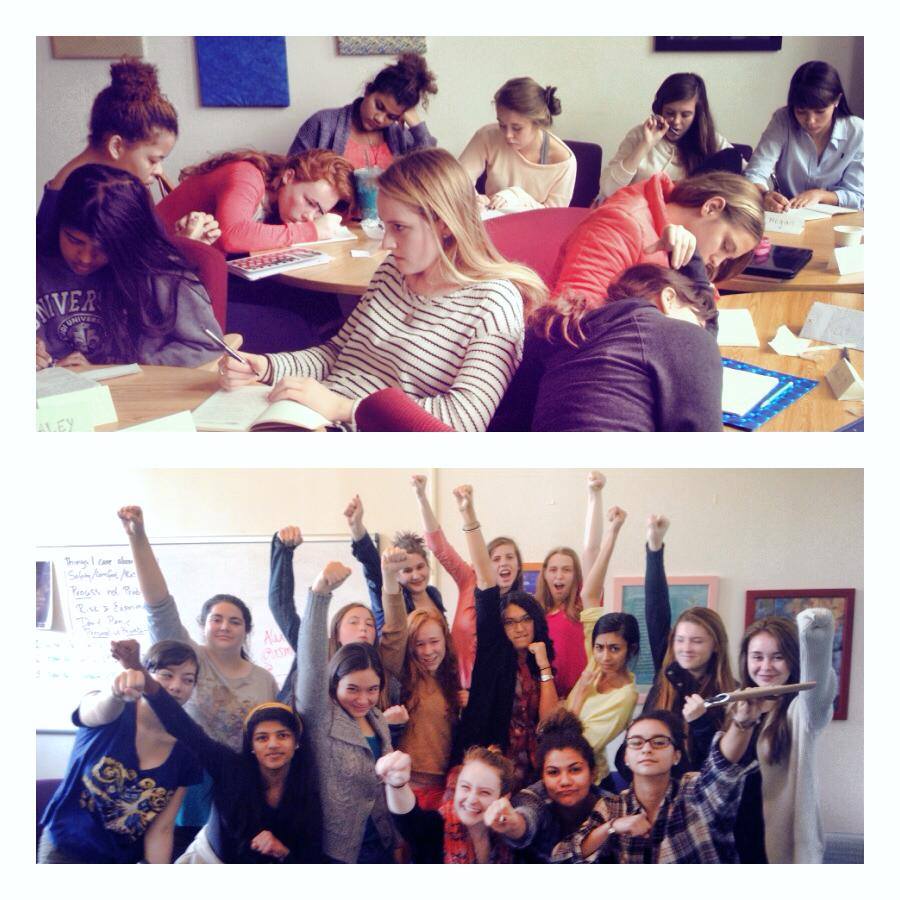 November 7-9, 2013
Performing and teaching at Hathaway Brown School in Shaker Heights, OH!
Sarah spent some wonderful quality time with 20 amazing young women: writing, playing, and collaborating. She was so impressed with how brave and smart they are and was immensely proud of the work they created and the risks they were willing to take. Thanks to Scott Parsons for putting together such a wonderful event, and to the lovely ladies who participated.
November 5, 2013
Performing at Carnegie Mellon University in Pittsburgh, PA!
Sarah performed for a full house at McConomy Auditorium at Carnegie Mellon University. The crowd was attentive and delightfully rowdy, which made for a fantastic evening. Many thanks to Jing Jing and the other organizers for putting on such a great event and to everyone else who came out for the show. There's even a review of the show in the Carnegie Mellon "Tartan" student newspaper! (Photo by Michelle Wan.)
October 31, 2013
Interviewed by The Fashion Globe Magazine!
Sarah was interviewed by Nicholas Ng for The Fashion Globe Magazine. He asked about Project VOICE, teaching, books, and life lessons. The article is also accompanied by some beautiful photographs by Emily Julian and Paul Gor. Much thanks to all the contributors and the staffers at Fashion Globe!
October 29, 2013
Performing and teaching at Harvey School in Katonah, NY!
Phil and Sarah were so happy to see their old friends at Harvey School today. This time they got a chance to perform for the entire school, followed by a rockin' workshop with some great new faces. As always, much love and thanks to Alexandra Lindquist for her dedication and organization! (And Happy Birthday!)
October 24, 2013
Performing at the Ehalakasa Poetry and Music Festival in Accra, Ghana!
What a magical evening. Sarah had the opportunity of featuring at the Ehalakasa festival at the Republic bar and grill in Accra alongside a giant roster of talented local poets and musicians. It was an absolute joy to be part of such a celebration of the arts. Much thanks to the organizers, especially Kojo Black Quaye. (Photos by Desire Clarke.)
October 20-23, 2013
Presenting and teaching at the African International Schools Association Conference in Accra, Ghana!
Sarah was immensely honored to be asked to deliver the opening keynote for the AISA's annual conference. She then spent three days working with educators from international schools from all over Africa: working, playing, creating, and collaborating on how spoken word poetry can be brought into classrooms as an education tool. Sarah was thrilled to get to spend time with such enthusiastic and dedicated teachers and staff. Much gratitude to Peter Bateman and all of the participants in Sarah's workshops.